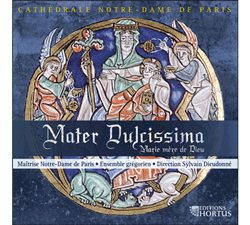 Marie mère de Dieu

Entirely devoted to the Virgin Mary, this programme reflects a tradition of sacred music which is very much kept alive at Notre-Dame de Paris.
Various forms of Gregorian chant (response Vidi speciosam, tropes, Introït Gaudeamus or prose Hallelujah, Hodie), polyphonies (sequence Verbum Bonum and versus Præconia virginis) and a monody (liturgical drama In Annontiatione) contribute to the glorification and praise of the Mother of God and her Assumption.
This programme bears testimony to the musical and religious world from which was to emerge, in this cathedral, the very first school of Western polyphony.
Maîtrise Notre-Dame de Paris
Sylvain Dieudonné, direction

HORTUS 041
T.T. 53'56
1 CD
DDD
© 2005
<!-AFFICHAGE PRIX / PROMO->
15,00 €
Because of the sanitary situation in the entire world, we are suspending the shipment until further notice. Our references are all available on the streaming and download platforms. Take care of yourselves, and may music accompany you all.
<!-FIN AFFICHAGE PRIX / PROMO->
By the same composer
Detailed program
HORTUS 041 | CD DDD ℗ Hortus 2005 | T.T. 53'56
Anonyme
1.
Praeconia Virginis
4'17
2.
Vocibus... Gaudeamus
9'50
3.
Mittit ad Virginem
2'55
4.
In Annuntiatione
8'05
5.
Gaude Maria Virgo
5'51
6.
Verbum Bonum
2'41
7.
Ave Maria
5'55
8.
Vidi Speciosam
3'10
9.
Alleluia-Assumpta est Maria
7'59
10.
Salve Regina
3'13