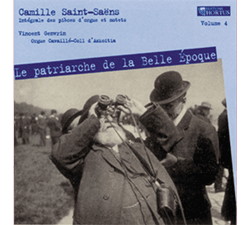 Le patriarche de la Belle-Époque
Camille Saint-Saëns : intégrale des pièces d'orgue et motets, volume 4


The beginning of the 20th century witnessed a return to the roots in the world of organ music through a renewed interest in Gregorian chant. Even Saint-Saëns, though not prone to bouts of mysticism, could not avoid the trend: his improvisations can be strangely modal (Feria Pentecostes) – but also not immune to the spell of Wagnerian harmonies (Improvisation I).
Vincent Genvrin, orgue

HORTUS 016
T.T. 71'46
1 CD
DDD
© 1999
<!-AFFICHAGE PRIX / PROMO->
15,00 €
Because of the sanitary situation in the entire world, we are suspending the shipment until further notice. Our references are all available on the streaming and download platforms. Take care of yourselves, and may music accompany you all.
<!-FIN AFFICHAGE PRIX / PROMO->
By the same composer
HORTUS 014
Samson et Dalila &...
Camille Saint-Sa&e...
Orgue Puget de l'Eglise Notre-Dame du Taur de Toulouse
Grand orgue Aristide Cavaillé-Coll de l'Basilique Santa-Maria la Real de Azkoïtia (Espagne)
Grand orgue E.F. Walcker de l'Cathédrale de Riga (Lettonie)

Detailed program
HORTUS 016 | CD DDD ℗ Hortus 1999 | T.T. 71'46
Camille Saint-Saëns
1.
Deuxième fantaisie op. 101
13'56
2.
Le Cygne
2'51
3.
Prélude du Déluge op. 45
9'06
Prélude et fugue en ut majeur op. 109/3
4.
Prélude
2'53
5.
Fugue
6'21
Sept improvisations op. 150
6.
[Improvisation I]
11'31
7.
Cyprès op. 156/1
8'39
Sept improvisations op. 150
8.
Feria Pentescotes
5'07
9.
Prélude et fugue en sol majeur op. 109/2
6'06
10.
Première fantaisie
5'15