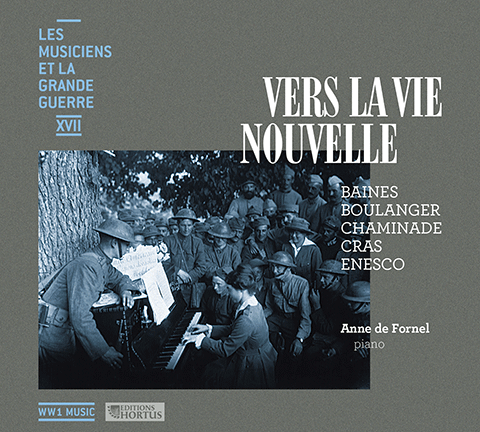 Les Musiciens et la Grande Guerre vol. 17
Chaminade - Baines - Enesco - Boulanger - Cras
'Into the heavy atmosphere – came doubt and discouragement. But distant sounds, clear and pure, rang out, and people marched, confidently, tenderly, seriously, towards the hope of a better life'.
Nadia Boulanger, Vers la vie nouvelle
Anne de Fornel, piano

HORTUS 717
T.T. 63'02
1 CD
DDD
© 2015
<!-AFFICHAGE PRIX / PROMO->
15,00 €
Because of the sanitary situation in the entire world, we are suspending the shipment until further notice. Our references are all available on the streaming and download platforms. Take care of yourselves, and may music accompany you all.
<!-FIN AFFICHAGE PRIX / PROMO->
In the same series
HORTUS 726
Romance de guerre
Gaubert - Fairchil...
By the same composer
Detailed program
HORTUS 717 | CD DDD ℗ Hortus 2015 | T.T. 63'02
Les Musiciens et la Grande Guerre, disque 17
Cécile Chaminade (1857-1944)
1.
Au pays dévasté op. 155
5'28
William Baines (1899-1922)
2.
Paradise Gardens
8'46
Georges Enesco (1881-1955)
Suite No. 3 op. 18
3.
Choral
7'26
4.
Carillon nocturne
5'07
Nadia Boulanger (1887-1979)
5.
Vers la vie nouvelle
4'13
Jean Cras (1879-1932)
4 Danze
6.
Danza mórbida
9'38
7.
Danza scherzosa
5'23
8.
Danza ténera
7'47
9.
Danza animata
9'05