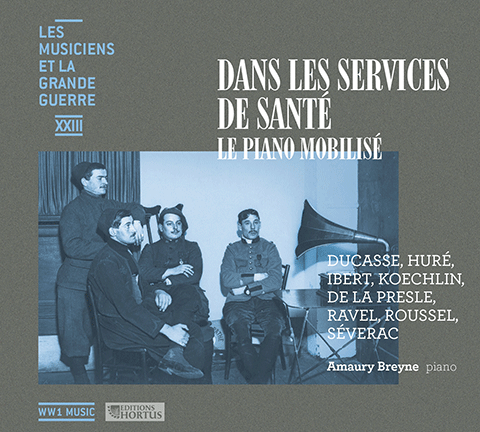 Les Musiciens et la Grande Guerre vol. 23
Le piano mobilisé
Two attitudes or reactions of the composers mobilised in the health services: whereas some, like Jacques Ibert and Jean Huré, use the piano to exorcise the horrors of the war, others, like Déodat de Séverac, attempt an imaginary escape, taking their audience far from the front, towards much more peaceful scenes, be they imaginary or nostalgic.
HORTUS 723
T.T. 68'17
1 CD
DDD
© 2017
<!-AFFICHAGE PRIX / PROMO->
15,00 €
Because of the sanitary situation in the entire world, we are suspending the shipment until further notice. Our references are all available on the streaming and download platforms. Take care of yourselves, and may music accompany you all.
<!-FIN AFFICHAGE PRIX / PROMO->
In the same series
By the same composer
Detailed program
HORTUS 723 | CD DDD ℗ Hortus 2017 | T.T. 68'17
Les Musiciens et la Grande Guerre, disque 23
Jacques Ibert (1890-1962)
1.
Le vent dans les ruines
4'01
Jean Roger-Ducasse (1873-1954)
2.
Variations sur un choral
18'41
Jacques de La Presle (1888-1969)
3.
Petite berceuse
2'19
Jean Huré (1877-1930)
4.
Sonate pour piano No. 2
20'30
Albert Roussel (1869-1937)
5.
Doute
4'12
Maurice Ravel (1875-1937)
6.
Prélude
1'44
Déodat de Séverac (1872-1924)
7.
Les naïades et le faune indiscret
10'09
Charles Koechlin (1867-1950)
5 Sonatines op. 59
8.
Troisième sonatine
6'32