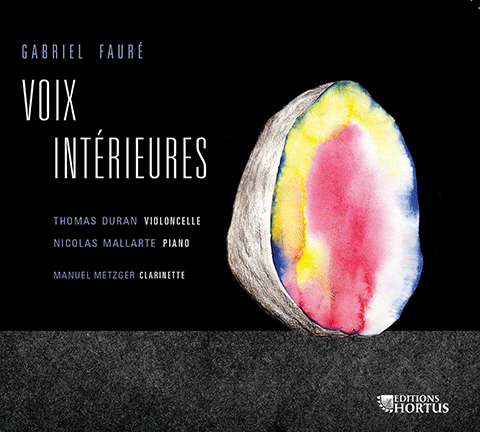 Gabriel Fauré : Voix intérieures
Rarely has a comparable introspection been achieved: the ambition of Fauré's music is to be the path toward reaching the bare flesh of emotion. Aged 72 and beset with the agony of increasing deafness, Fauré embarks upon his final creative period wherein his two cello sonatas and his trio stand out, the latter presented here in its rare initial version with clarinet.
Nicolas Mallarte, piano
Manuel Metzger, clarinette
Thomas Duran, violoncelle

HORTUS 171
T.T. 66'49
1 CD
DDD
© 2019
<!-AFFICHAGE PRIX / PROMO->
15,00 €
Because of the sanitary situation in the entire world, we are suspending the shipment until further notice. Our references are all available on the streaming and download platforms. Take care of yourselves, and may music accompany you all.
<!-FIN AFFICHAGE PRIX / PROMO->
By the same composer
HORTUS 128
De Baudelaire &agr...
Sonates fran&ccedi...
Detailed program
HORTUS 171 | CD DDD ℗ Hortus 2019 | T.T. 66'49
Gabriel Fauré (1845-1924)
Sonate pour violoncelle et piano en Sol Mineur op. 117
1.
Allegro
6'05
2.
Andante
7'09
3.
Allegro vivo
4'56
4.
Clair de Lune, No. 2 (Transcription pour violoncelle et piano) op. 46
2'48
5.
Prison (Transcription pour violoncelle et piano) op. 83
2'22
Sonate pour violoncelle et piano en Ré Mineur op. 109
6.
Allegro
5'26
7.
Andante
6'59
8.
Allegro commodo
6'28
9.
Vocalise-Étude
3'05
Trio pour clarinette, violoncelle et piano en Ré Mineur op. 120
10.
Allegro ma non troppo
6'04
11.
Andantino
9'37
12.
Allegro vivo
4'46
13.
Morceau de lecture
0'56