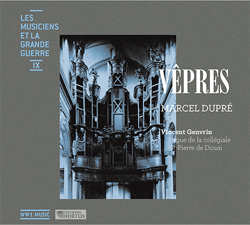 Les Musiciens et la Grande Guerre vol. 9
Marcel Dupré
At once monumental in scale and public-oriented in character, organs are of all musical instruments those most implicated in the history of men: witness that of the Collegiate Church of Douai, looted at the end of the Great War, replaced in 1922 by another built in 1914 for imperial Russia and never delivered… On 15 August 1919, a month after the Victory Te Deum, a British patron of the arts, Claude Johnson, attended Vespers at Notre- Dame Cathedral in Paris. Thrilled by the improvisations of Marcel Dupré, who was substituting for Louis Vierne at the time, he asked him to write them down: the result, Fifteen Pieces op. 18, was premiered in 1920 in London.
Vincent Genvrin, orgue

HORTUS 709
T.T. 58'35
1 CD
DDD
© 2014
<!-AFFICHAGE PRIX / PROMO->
15,00 €
Because of the sanitary situation in the entire world, we are suspending the shipment until further notice. Our references are all available on the streaming and download platforms. Take care of yourselves, and may music accompany you all.
<!-FIN AFFICHAGE PRIX / PROMO->
In the same series
HORTUS 716
Verdun, feuillets ...
Pierné - Ladmirau...
By the same composer
Grand orgue Mutin-Cavaillé-Coll de l'Eglise Saint-Pierre de Douai

Detailed program
HORTUS 709 | CD DDD ℗ Hortus 2014 | T.T. 58'35
Marcel Dupré (1886-1971)
Fifteen Pieces founded on Antiphons op. 18
1.
Antienne I- Maestoso
3'13
2.
Tranquillo
2'47
3.
Très lent et sans rigueur
4'15
4.
[Fughetta], assez animé
1'25
5.
Andante moderato
2'42
6.
Canon à la quarte entre soprano et basse, très modéré
1'27
7.
Choral au ténor, lento
2'16
8.
Choral orné dans le style de J.S. Bach, Adagio
2'45
9.
Finale [Toccata], animato
2'05
10.
Andante con moto
2'50
11.
Choral et canon à la pédale, maestoso
2'44
12.
[Fughetta], allegro ma non troppo
2'56
13.
Cantilena, allegretto ma non troppo
2'56
14.
Misterioso e adagiosissimo
3'09
15.
Finale, allegro con fuoco
1'50
16.
Cortège et Litanie op. 19
5'50
17.
Pastorale
8'56
18.
Carillon
5'25