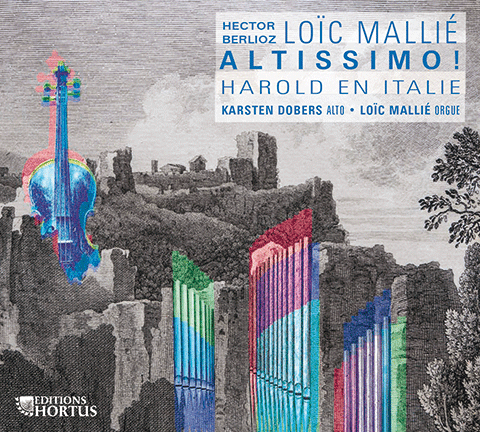 Harold en Italie
Berlioz — The magician of timbre-blending: it is in this spirit that this transcription of Harold en Italie is to be discovered. Through it Karsten Dobers and Loïc Mallié have aimed at making SEEN and HEARD the colours and the harmonies resulting from these miraculous combinations in tone. The two pieces by Loïc Mallié - Altissimo ! and Hommage à Berlioz, are affirmatively conceived in the same spirit: colour before all else!
Loïc Mallié, orgue
Karsten Dobers, alto

HORTUS 144
T.T. 68'11
1 CD
DDD
© 2017
<!-AFFICHAGE PRIX / PROMO->
15,00 €

<!-FIN AFFICHAGE PRIX / PROMO->
By the same composer
HORTUS 049
Du Roi des cieux t...
Musique sacr&eacut...
Orgue Jean Daldosso de l'Eglise Saint-Vincent-de-Xaintes de Urrugne (France )

Detailed program
HORTUS 144 | CD DDD ℗ Hortus 2017 | T.T. 68'11
Hector Berlioz
Harold en Italie
1.
Harold aux montagnes. Scènes de mélancolie, de bonheur et de joie
18'41
2.
Marche de pèlerins chantant la prière du soir
8'22
3.
Sérénade d'un montagnard des Abruzzes à sa maîtresse
7'08
4.
Orgie des brigands. Souvenirs des scènes précédentes
17'25
Loïc Mallié
5.
Hommage à Berlioz
6'59
6.
Altissimo !
9'32