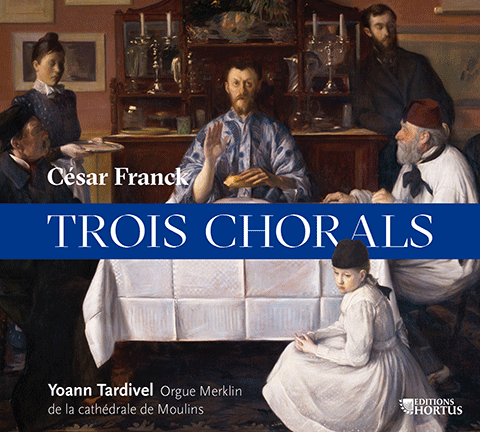 Are the Three Chorales César Franck's testament? Nothing is less certain, as death seems to have brutally interrupted a feverish, all-out creative thrust, to which the operas Hulda and Ghiselle bear witness, as does the project for a cello sonata as well. In these Chorales he pursues with an eternal youth his lasting endeavour of creating a drama out of form alone, turning the supposedly decorative instrument into the interpreter of the most heartrending romanticism.
Yoann Tardivel, orgue

HORTUS 147
T.T. 57'56
1 CD
DDD
© 2017
<!-AFFICHAGE PRIX / PROMO->
15,00 €

<!-FIN AFFICHAGE PRIX / PROMO->
By the same composer
HORTUS 128
De Baudelaire &agr...
Sonates fran&ccedi...
Orgue Merklin de l'Cathédrale de Moulins

Detailed program
HORTUS 147 | CD DDD ℗ Hortus 2017 | T.T. 57'56
César FRANCK (1822-1890)
1.
Choral en Mi majeur
16'37
2.
Cortège des fiancés
2'56
3.
Chanson de l'Hermine
2'41
4.
Prélude de l'acte II
5'24
5.
Choral en Si mineur
15'39
6.
Choral en La mineur
14'34