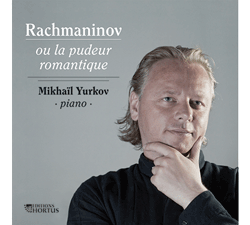 ou la pudeur romantique

Rachmaninoff's piano music is a world in itself but also an open window into the rest of his output. One of the greatest pianists of his time, who had to rely on that talent for a living after several failures as a composer, he poured all his soul into his keyboard music, with much passion and dignity.
HORTUS 069
T.T. 63'05
1 CD
DDD
© 2009
<!-AFFICHAGE PRIX / PROMO->
15,00 €

<!-FIN AFFICHAGE PRIX / PROMO->
By the same composer
HORTUS 034
Missa Russica Vol ...
Le concert vocal r...
Detailed program
HORTUS 069 | CD DDD ℗ Hortus 2009 | T.T. 63'05
Sergueï Rachmaninov (1873-1943)
Sonate No.2 op. 36
1.
Allegro agitato
8'23
2.
Non allegro
6'32
3.
Allegro molto
5'02
Six moments musicaux op. 16
4.
Andantino
7'22
5.
Andante cantabile
4'26
6.
Presto
3'20
Dix préludes op. 23
7.
Andante cantabile
5'10
8.
Alla marcha
3'58
9.
Lento
5'33
Etudes-tableaux op. 33
10.
Grave
4'52
Etudes-tableaux op. 39
11.
Allegro agitato
3'06
12.
Appassionato
5'17