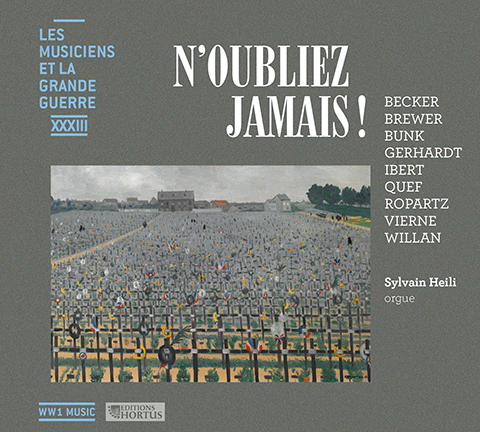 Les Musiciens et la Grande Guerre vol. 33
Toronto, 1916. A young composer and recent émigré from Britain, Healey Willan, challenges Max Reger on his own turf: his ambitious Introduction, Passacaglia and fugue in e-flat minor quickly emerges as a masterpiece. In the opposite camp other composers celebrate patriotic commitment, whereas on the French side Jacques Ibert,
Charles Quef, René Vierne, although drafted, do their best to escape the morbid ambience surrounding them.
HORTUS 733
T.T. 68'57
1 CD
DDD
© 2018
<!-AFFICHAGE PRIX / PROMO->
15,00 €
Because of the sanitary situation in the entire world, we are suspending the shipment until further notice. Our references are all available on the streaming and download platforms. Take care of yourselves, and may music accompany you all.
<!-FIN AFFICHAGE PRIX / PROMO->
In the same series
By the same composer
Orgue Roethinger de l'Eglise Saint-Martin de Erstein

Detailed program
HORTUS 733 | CD DDD ℗ Hortus 2018 | T.T. 68'57
Les Musiciens et la Grande Guerre, disque 33
Gerard Bunk (1888-1958)
1.
Pièce héroïque op. 49
7'35
Paul Gerhardt (1867-1946)
Bagatellen: Sechs Charakterstücke op. 17
2.
Trauerzug
11'26
Charles Quef (1873-1931)
Trois pièces op. 44
3.
Idylle
5'50
Joseph-Guy Ropartz (1864-1955)
4.
Troisième Méditation en Do Dièse Mineur
6'56
René Vierne (1878-1918)
5.
Toccata en Sol Mineur
2'23
Alfred Herbert Brewer (1865-1928)
6.
Elegy
3'35
Jacques Ibert (1890-1962)
Trois pièces
7.
Pièce solennelle
5'54
René Louis Becker (1882-1956)
8.
Cantilène op. 63
6'21
Healey Willan (1880-1968)
9.
Introduction, Passacaille et Fugue en Mi Bémol Mineur
18'51