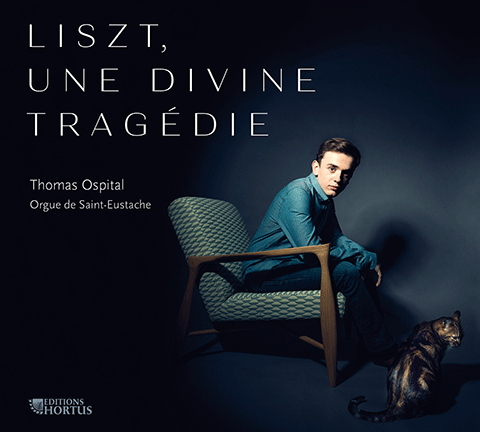 With 'Ad nos…' Liszt creates a miniopera
Ohne Worte which, for the
organ, opened the door to romantic
fantasy. Thomas Ospital has chosen
to surround this piece with transcriptions
of orchestral or piano works,
drawing the contours of a tragedy: a
'divine' tragedy, for the Saint-Eustache
organ can take us only to heaven, after
the passage of the trumpets of fame,
the sighs of love and the lamentations
of mourning.
HORTUS 145
T.T. 67'16
1 CD
DDD
© 2017
<!-AFFICHAGE PRIX / PROMO->
15,00 €

<!-FIN AFFICHAGE PRIX / PROMO->
By the same composer
HORTUS 088
Franz Liszt Lectur...
Liszt d'inspiratio...
Orgue van den Heuvel de l'Eglise Saint-Eustache de Paris

Detailed program
HORTUS 145 | CD DDD ℗ Hortus 2017 | T.T. 67'16
Franz Liszt (1811-1886)
1.
Orpheus S. S. 98
12'27
Fantasie und Fuge über den Choral Ad nos, ad salutarem undam
2.
[Moderato-Allegro]
10'19
3.
[Recitativo-Adagio]
10'28
4.
[Adagio – Allegro deciso – Fuga – Allegro con brio]
12'17
5.
Funérailles
13'09
6.
Am Grabe Richard Wagners S. S. 135
4'12
7.
Consolation n°4 S. S. 172
4'11